Protecting Your Business One Mile at a Time
How important is the trucking industry? 11.84 billion tons-worth, carrying over 70% of American freight by weight (according to the American Trucking Associations). As we've all witnessed over the past year and a half, truckers are essential to our economy and even comfort in our homes, as we enjoy our favorite products from around the world.
Today we're uncovering the ins and outs of Truck Insurance. If you're a member of this community your biggest risk is also your largest asset, your truck(s). Truck insurance combines multiple commercial coverages into a single policy that's tailored to your trade. Let's make sure you're driving every mile and carrying every freight practically but safely.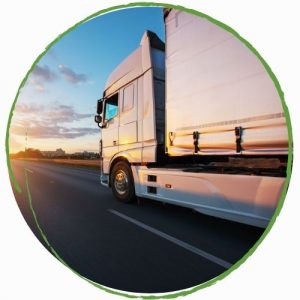 Insurance carriers often refer to 3 types of trucking businesses:
Owner Operator (Independent contractors that provide services using their own trucks).
Motor Carrier (An asset-based entity that transports 3rd party goods using their own trucks and holds primary responsibility for the freight they move).
Private Motor Carrier (Essentially, a business that transports its own products).
Your own trucking company might reflect bits and pieces of the above business types or be a unique model altogether. If you don't fit exactly into one of these categories, don't worry… everything can be tailored to you. This means we are able to provide coverage to class 8 trucks, tractors, tow trucks, dump trucks, and others.
To make sure your trucking business is fully protected, it's helpful to think of your insurance policy in 3 layers:
Foundational Commercial Coverages
It's the cost of doing business. Every business is going to have to address basic but potentially very costly risks, such as slip and falls, inaccurate professional advice, criminals, and even digital perils. Your foundational coverages will most likely include General Liability, Professional Liability, Cyber Liability, Crime protection and others. Interested in brushing up on your commercial insurance knowledge? We've got you covered.
Commercial Auto Coverages
These coverages will account for your truck/fleet if they're damaged or cause damage from collisions or other mishaps on or off the road:
Physical truck damage
Property damage
Fire or theft of your assets
Cargo
Human injuries for both the driver(s) and others (medical and legal fees can quickly add up)
Trailer Interchange, in case you need to transfer a trailer to complete a shipment
Rental Reimbursement, in case your truck goes down and you need to drive a rental vehicle
Bobtail, for when you are driving home without a trailer
… just to name a few. All of these coverages will be written with you in mind and the policy language will be adjusted to fit your business. That's why we're passionate about relationship-based interactions, so that you feel comfortable talking through your policy.
Your Specific Coverages
Your business model will dictate what specialty coverages you will need. For example, if you tow, you will need coverages that protect the vehicles you're towing. If you ever use your business truck(s) personally (you help a family member move), your commercial policy will not protect you when your driving "off duty." Specialized coverages are there to meet your business lifestyle.
Who is covered in your Policy:
You, as the owner will be covered in the policy. Any other individuals or drivers will need to be added to the policy's language. If the carrier does not find someone's name in the policy, they will not be covered while driving or working on behalf of your business.
What to look for in a carrier:
It's important to find a carrier that values the intricate details of your business, but also has the bandwidth to manage heavy truck claims on the go. As an independent agency, we have the freedom to shop around for you to find a carrier that is right for you. In other words, you get the priority experience with a national backing.
Insurance should focus on the health of your business. We look forward to helping you operate and drive safely. We're in for the long haul.